COLLAGEN VITAL BEAUTÉ PREMIUM
NATURAL BEAUTY NUTRACEUTICAL WITH ACTIVE MARINE BIO PEPTIDES, HYALURONIC ACID AND VITAMIN C. THREE STAR ACTIVE INGREDIENTS FOR YOUR SKIN REJUVENATION
10g active ingredients of excellence

Natural origin

Premium Quality Made in France

Responsible Formulation

Natural flavor Strawberry

15 Days
Clean Label Made in France
Delivery Icon
Livraison offerte En France métropolitaine
The French Beauty Secret Inside Out
10g of asset at the service of your skin beauty
Our marine collagen of excellence is combined with natural active ingredients with synergically efficiency for a unique holistic approach of skin beauty. 
Collagen, the main body's protein, plays an important role in maintaining the elasticity and the plump up of the skin. By aging, the collagen depletes, its network inside the dermis layer weakens, causing skin sagging. That's why collagen is often mentioned by scientists as the "Youth Protein".
Our expert formulation is adding selected natural active ingredients to our proprietary collagen peptides.
COLLAGEN VITAL BEAUTY will support restoration of your dermis network, improve skin density and elasticity, reduce wrinkles and fine lines, for a better glow and rejuvenated skin.
COLLAGEN VITAL BEAUTY will also be beneficial to sensitive skins by supporting reduction of redness and skin imperfections (i.e. acne).
The benefits of Collagen Vital Beauty Premium
A combination of targeted active ingredients to optimize skin quality over the long term, whilst benefitting from the potency of active marine bio-peptides boosting your own production of collagen and nourishing your deep skin layers.
Main benefit will come from our proprietary bioactive marine peptides which triggers your own production of collagen mass, replenishing your collagen asset that is lost by aging. The high concentration of our collagen peptides will act positively on your skin density and elasticity, supporting significant reduction of wrinkle, fine lines or crow's feet in the eye area.
The other selected ingredients will work on the following areas:
Hyaluronic Acid : Accelerates the plumping effect and the filling of wrinkles.
Provides maximum hydration and elasticity inside the dermis.

Acerola / Vitamin C : Powerful antioxidant, it protects skin cells against oxidation of free radicals and slows down the aging process of the skin, counteracting UVA, pollution, sun light, and other external damaging factors.

Zinc : Contributes to maintaining healthy skin. Anti-inflammatory and antibacterial,

it helps reduce redness and skin imperfections.
A solid collagen matrix is a must have to fix and keep these ingredients inside the skin layers.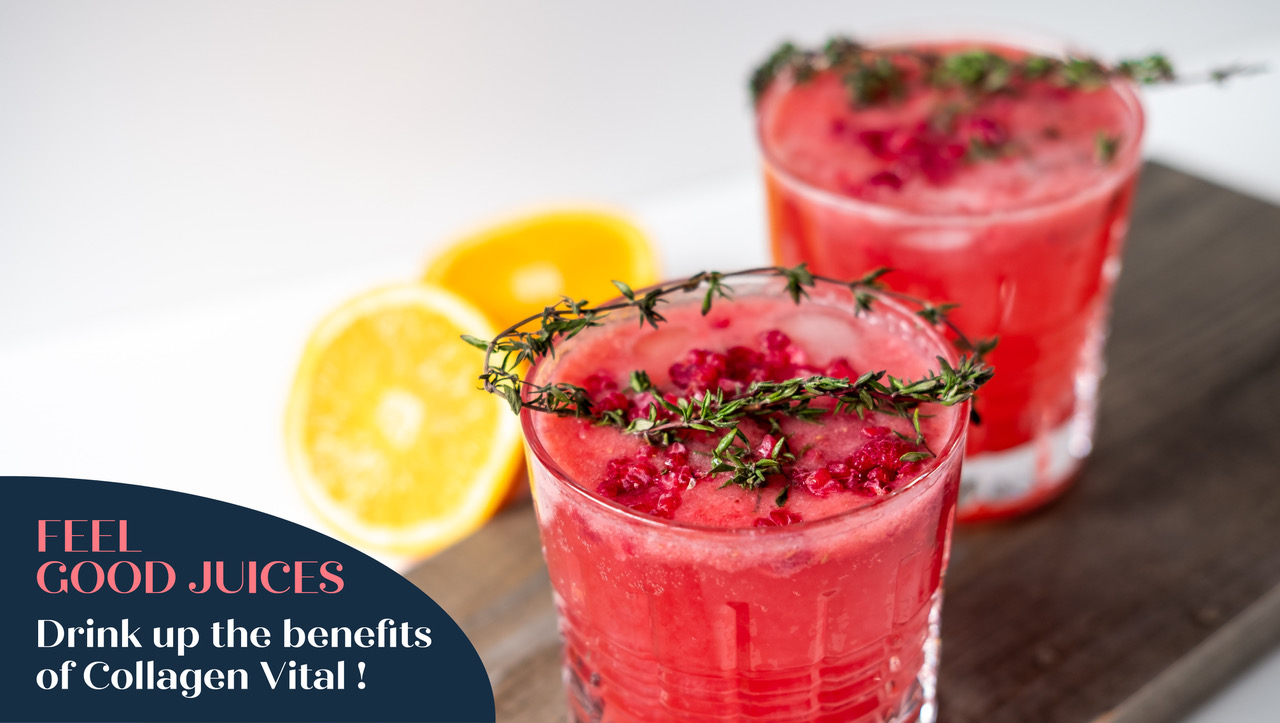 Directions for use
One sachet per day to be poured directly into a glass of water, a fruit juice, a smoothie or any non-sparkling liquid. You could also add to your cottage cheese, cereals or chia pudding.
Drink your healthy juice after complete dissolution of the powder.
To be taken in the morning during 30 days to optimize results.
COLLAGEN VITAL BEAUTY is complementary to all aesthetic protocols . It could be used before and after injections or surgeries. Contact us if you would like to receive personalized advises from our beauty experts.
Ingrédient actif

Acide Hyaluronique, Acérola (Malpighia Glabra), vitamine C (37,5% des VNR*) Arôme naturel fraise, poudre de jus de betterave, stévia Biopeptides de collagène marin Zinc (30% des VNR*)

VNR

* VNR : Valeurs Nutritionnelles de Référence