COLLAGEN VITAL IMMUNITE PREMIUM
ENHANCING VITALITY, PREVENTION OF NATURAL DEFENSE, STRENGTHENING OF IMMUNE SYSTEM WITH BIOACTIVE MARINE PEPTIDES, VITAMINS, ECHINACEA AND ACTIVE NUTRIENTS.
10g active ingredients of excellence

Natural origin

Premium Quality Made in France

Responsible Formulation

Natural flavor Orange

15 Days
Clean Label Made in France
Delivery Icon
Livraison offerte En France métropolitaine
10g of asset at the service of your natural defense.
Our expert formulation is adding selected natural ingredients boosting your vitality to marine collagen peptides that promotes healthy lifestyle.
Many clinical studies have proven the benefits of healthy lifestyle, physical activity and sport in maintaining potent natural defense against viruses, germs or bacteria.
Our marine collagen of excellence is here combined with natural active ingredients with synergically efficiency for a unique preventive approach strengthening immune system and optimizing your natural defense.
With stress, fatigue, lack of sleep, reduced physical activity or cold, the immune system is impaired and we become more vulnerable to infections or allergies.
With COLLAGEN VITAL IMMUNITY, you will be fueled with a full set of vitamins and nutrients acting on fatigue reduction, strengthening blood cells capable to fight viruses and germs.
The benefits of Collagen Vital Immunity Premium
A combination of targeted active ingredients to optimize your natural defense whilst benefitting from the potency of active marine bio-peptides boosting your own production of collagen.
Main benefit will come from our proprietary bioactive marine peptides which triggers your own production of collagen mass, replenishing your collagen asset that is lost by aging.
As part of an active lifestyle, Collagen Vital Immunity helps to optimize your own defense against viruses and germs:
Collagen peptides will improve the structure of respiratory, intestinal and urogenital mucous membranes, hence avoiding virus, bacteria or toxin to pass into your blood system.

Collagen peptides will also strengthen the network of all the mucous membranes allowing lymphoid tissue (a group of lymphocytes and white blood cells) to be better anchored. This is part of the process of acquired immunity, allowing a rapid immune response to better repel microbial or viral attack by being already present at the site of infection.
The other selected ingredients will work on the following areas:
Echinacea : Plant active in the protection and repair of infections. Antiviral, immunostimulant and natural activator of the defense system.

Vitamins C and E : Help protect cells against oxidative stress generated to remove foreign agents.

Vitamins A, B9 (Folates) and D3 : Contribute to the normal functioning of immune system, by promoting the proliferation of white blood cells and the production of antibodies.
Nutrients (Zinc, Selenium, Magnesium) : They contribute to normal functioning of immune system by playing a role in particular in cell division and in energy metabolism which contributes to the reduction of fatigue.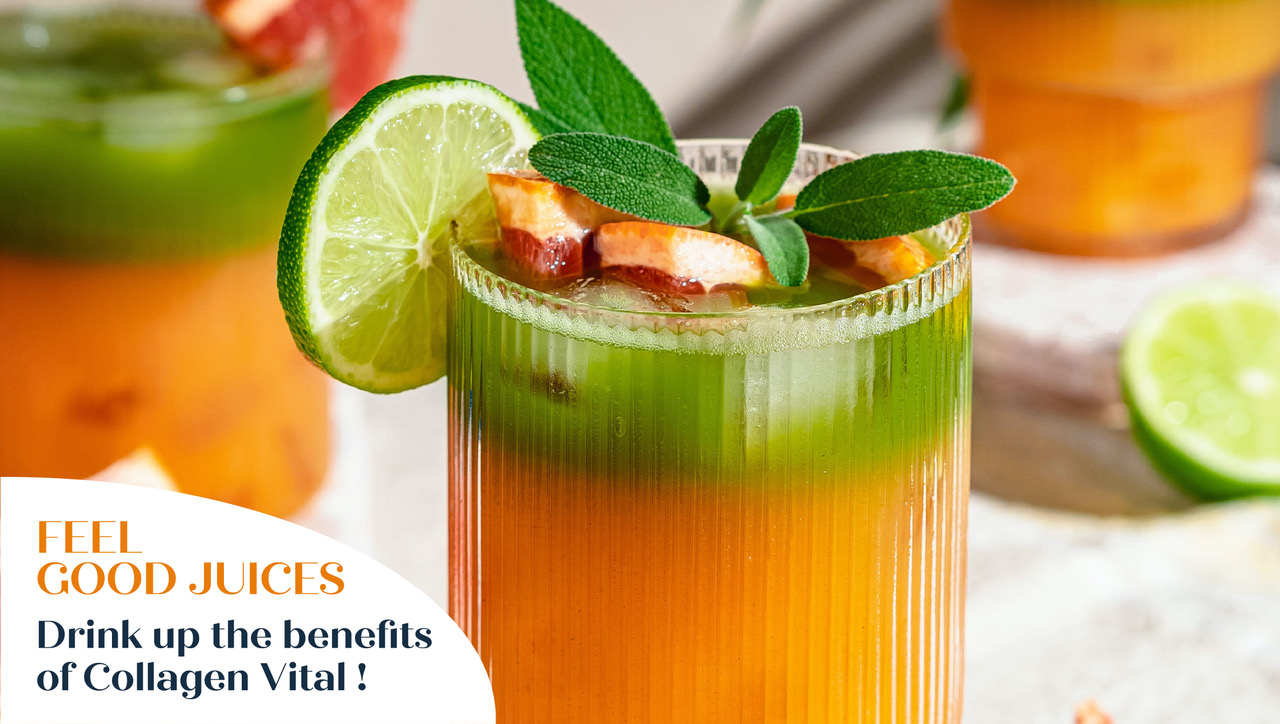 Directions for use
One sachet per day to be poured directly into a glass of water, a fruit juice, a smoothie or any non-sparkling liquid. You could also add to your cottage cheese, cereals or chia pudding.
Drink your healthy juice after complete dissolution of the powder.
To be taken in the morning during 30 days to optimize results.
Ingrédient actif

Acérola (Malpighia Glabra), vitamine C (50% VNR*) Biopeptides de collagène marin, Extrait d'Echinacée, Selenium (91% VNR*) Vitamine A (30% VNR*) Vitamine B9 (30% des VNR*) Vitamine D3 (60% des VNR*) Vitamine E (30% VNR*) Zinc (100% VNR*)

Ingrédients autres

Arôme naturel d'orange, riboflavine (vitamine B2), poudre de jus de betterave, stévia

VNR

* VNR : Valeurs Nutritionnelles de Référence