COLLAGEN VITAL CHEVEUX PREMIUM
NATURAL BEAUTY SUPPLEMENT FOR STRONG, HEALTHY AND SHINNY HAIR WITH ACTIVE MARINE BIO PEPTIDES, BIOTIN AND PLANT ACTIVE INGREDIENTS.
10g active ingredients of excellence

Natural origin

Premium Quality Made in France

Responsible Formulation

Natural Citrus flavor

15 Days
Clean Label Made in France
Delivery Icon
Livraison offerte En France métropolitaine
10g of asset at the service of your hair beauty
Our marine collagen of excellence is combined with natural active ingredients with synergically efficiency for a unique holistic approach of skin beauty. 
Collagen, the main body's protein, plays an important role in maintaining the vitality and balance of your dermis papilla, supporting the root and reducing the contractions of your hair follicles responsible for hair brittleness and loss. You will recognize the benefits of improved hair density and volume, significantly reduced hair loss.
Our expert formulation is adding selected natural active ingredients (nutrients, antioxidants and plant extracts) to our proprietary collagen peptides, resulting in rebalanced scalp, strengthened hair, accelerated growth.
In a nutshell, COLLAGEN VITAL HAIR PREMIUM nourishes your scalp with premium nutriments for a triple action : anti-brittleness, anti-loss, activated hair growth.
The benefits of Collagen Vital Hair Premium
A combination of targeted active ingredients to pamper your beautiful hair whilst benefitting from the potency of active marine bio-peptides boosting your own production of collagen and nourishing your scalp.
Main benefit will come from our proprietary bioactive marine peptides which triggers your own production of collagen mass, replenishing your collagen asset that is lost by aging. Our collagen peptides will act positively on your scalp by promoting the dermis to densify,for a better quality of the root tissues and stimulation of hair strength and growth.
The other selected ingredients will work on the following areas:
Biotin (Vitamin B8, B7) : Maintains healthy hair and nails.

Arugula : Antioxidant, rich on flavonoids, it stimulates the capillary bulb, promoting hair growth.

Horsetail : Rich in silica and sulfur, it promotes hair and nail strength.

Brocoli seed : Rich in selenium and sulforaphanes, it protects the cells against oxidative stress, promoting healthy scalp and slowing down hair loss.
Zinc : Contributes to maintaining healthy hair. Fights against thinning and premature aging.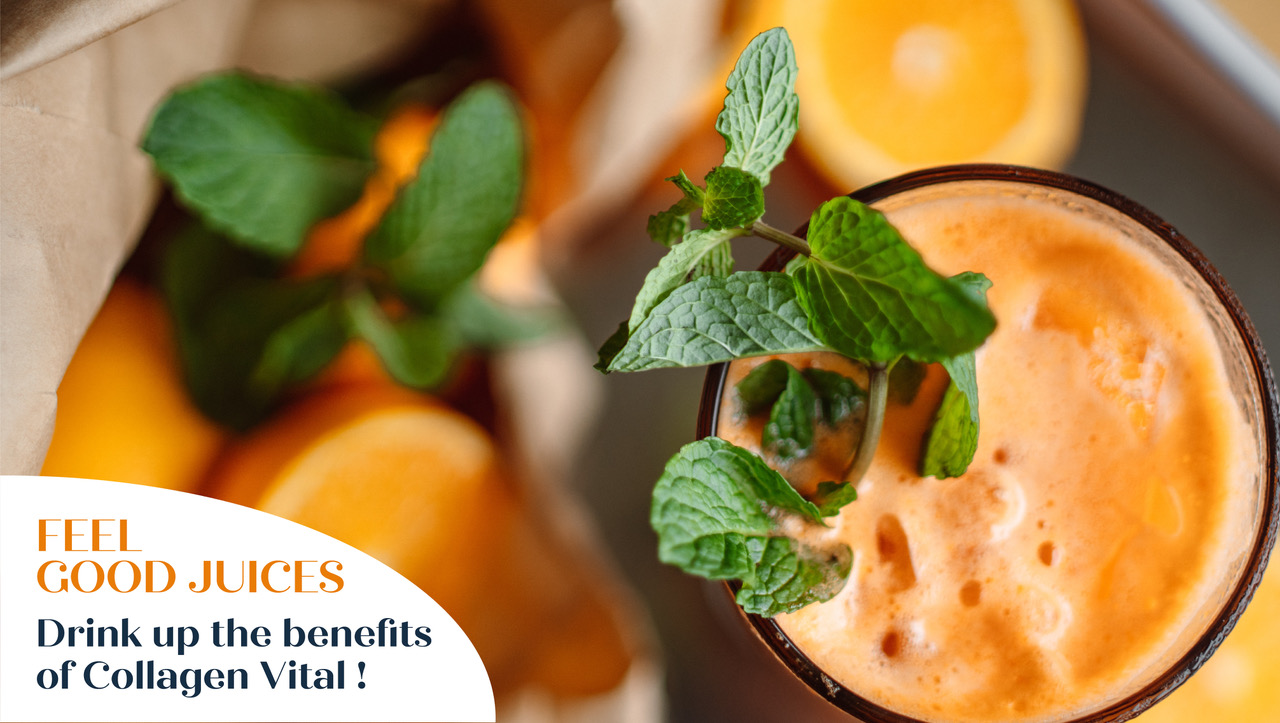 Directions for use
One sachet per day to be poured directly into a glass of water, a fruit juice, a smoothie or any non-sparkling liquid. You could also add to your cottage cheese, cereals or chia pudding.
Drink your healthy juice after complete dissolution of the powder.
To be taken in the morning during 30 days to optimize results.
COLLAGEN VITAL HAIR could be used at any stage of your hair health : PREVENTION, PROTECTION, MAINTENANCE or CURE . Contact us if you would like to receive personalized advises from our hair experts.
Ingrédient actif

Biopeptides de collagène marin Biotine, Vitamine B8 (100% des VNR*) Extraits de Prèle (Equisetum Arvense) Extraits de Roquette (Eruca Vesicaria) Extraits de graines de Brocolis (Brassica Oleracea) Zinc (100% des VNR*)

Ingrédients autres

Arôme naturel d'orange, arôme naturel de citron, poudre de jus de betterave, stévia

VNR

* VNR : Valeurs Nutritionnelles de Référence