Stimulate your immunity naturally and stay healthy
Collagen Vital Immunité, a 2-in-1 immuno-nutritional supplement, allowing you a holistic approach to immunity :
- By strengthening the barrier function of the skin and muscous membranes.
- By stimulating the body's natural defense.
Its formulation associates our marine collagen biopeptides with potent active ingredients, known for their immune functionalities: Echinacea, 5 vitamins (A, B, C, D, E) and 3 nutrients (zinc, selenium, magnesium).
All these ingredients act synergically within your overall immune system.
Discover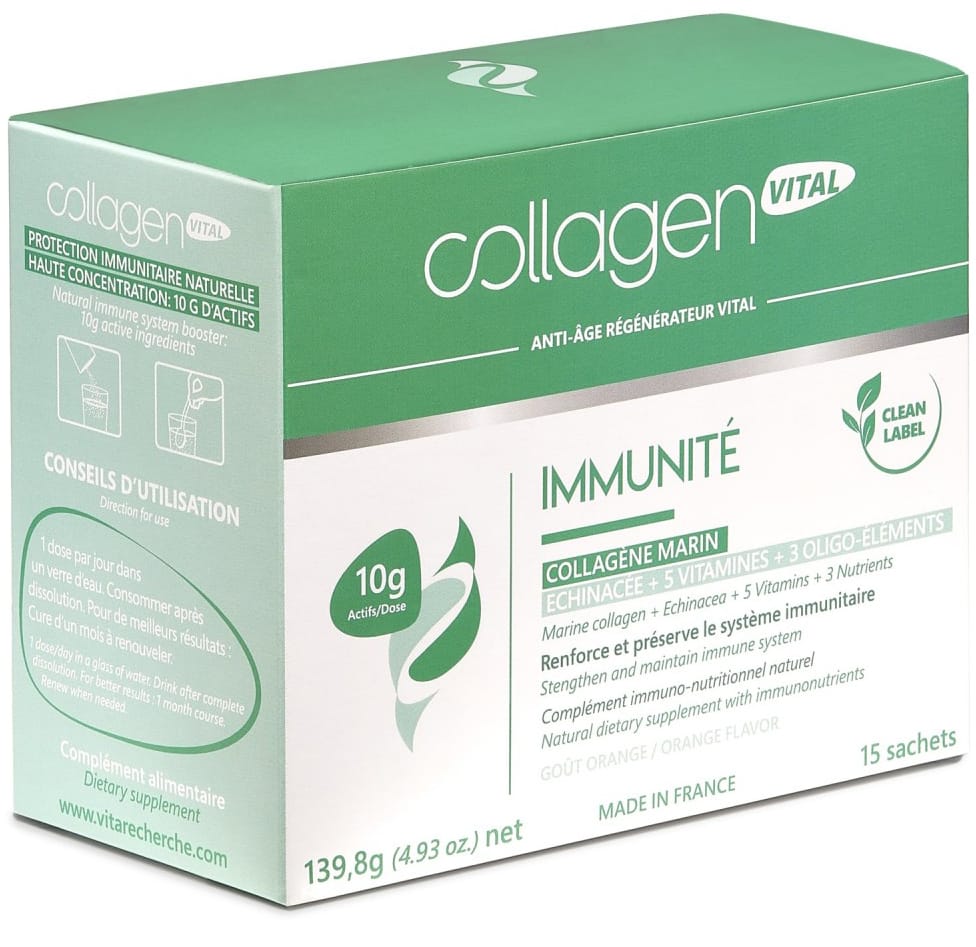 To each its own immune response
Preserve
Your immune system capabilities
Prevent
Seasonal allergies
Repair
Immune barriers
Protect
Your bone marrow
How does Collagen Vital support your immune system ?
With age or fatigue, immunity is impaired and your body becomes more vulnerable to infections, viruses or allergies.
PRESERVE YOUR IMMUNE SYSTEM CAPABILITIES
Our active ingredients are immune system boosters (vitamins, nutrients) that improve your defense.
PREVENT SEASONAL ALLERGIES
Seasonal allergies attack nasal and respiratory mucous. Your cells are reacting by triggering inflammatory reactions and producing anti-bodies. You'd better preserve your immune system upfront.
REPAIR IMMUNE BARRIERS
Collagen, main building bloc of barrier organs, is our first shield. The skin (80% made up of collagen) must keep its tightness against pathogenic agressions and wounds.
The respiratory, gut and urogenital mucous membranes, also made up of collagen, plays the same barrier role, but internally. When a membrane is porous, it enables bacterias and toxins to pass through.
It's therefore essential to build up the collagen network for strenghtening mucous membrane tightness.
PROTECT YOUR IMMUNITY ASSETS
The white blood cells, of which lymphocytes, true "defense soldiers" against intruders (viruses, micro-organisms causing infections), play a key role for your defense.
They are store inside your collagenous tissues. Protecting them well is thus vital.
This locally stored immune asset allows a rapid response to infection and external attacks.
PROTECT YOUR BONE MARROW
Bone marrow is the nerve center of white blood cell production. By restructuring bone matrix with our collagen peptides, we contribute to protect your immune asset.
Collagen Vital Immunité, your holistic solution
IDEAL IMMUNO-STIMULATION AND PREVENTION
The synergistic effect of our active marine collagen peptide with our selected immuno-nutrients will optimize natural defense activity :
- Better management of the inflammatory response by controling the oxidative stress.
- Better immune response by reducing immunosuppression.