The power of marine ingredients
can act from within, at the source of the aging process
Collagen gives structure to your skin and supports our body architecture to stay strong, move, bend and stretch.
Only a highly concentrated collagen supplement, easily digestable and rapidly available to the heart of your connective tissues can act fom within, at the source of the aging process.
YOUR NEW ANTI-AGING ROUTINE !
SCIENCE BEHIND COLLAGEN VITAL
Collagen Vital Power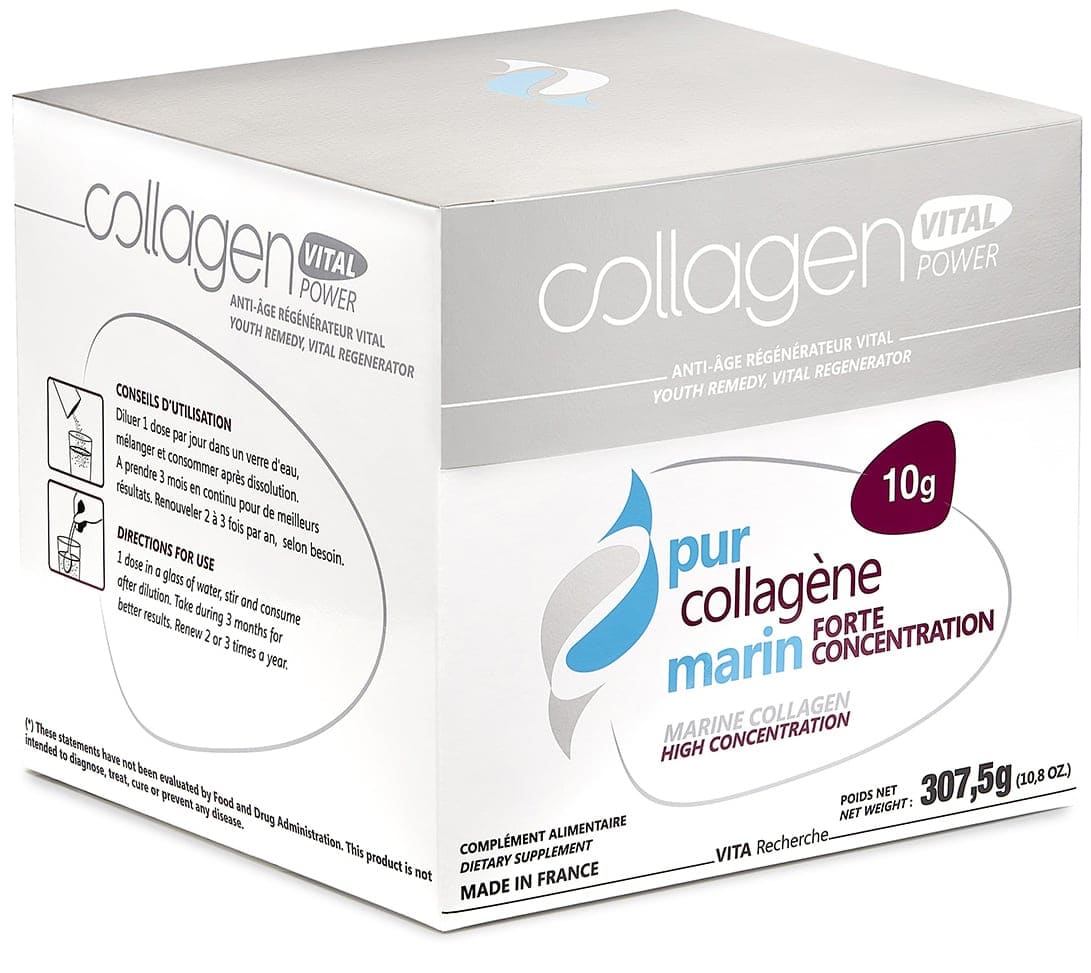 Collagen Vital Power is the power of 10g of pure collagen at the service of skin regeneration: the more your own collagen production is stimulated, the more your skin structure is regenerated.
Our Best-Seller : Multi-purpose functional nutraceutics for your health and beauty.
DISCOVER OUR PRODUCT
Find out your treatment / What is your need ?
Take control of your Beauty and Health
Our collagen of excellence
Scientifically proven efficacy

Clean Label Made in France

Natural marine collagen
Bioavailability

10g active ingredients

Recommended by physicians
Our commitments
Environmentally friendly
Bringing value added to marine products, Collagen Vital contributes to the sustainable and environment-friendly management of marine resources.
We support associations involved in preservation of marine life (THE SEA CLEANER, MOOREA CORAL GARDENERS).
Science
Collagen Vital: the excellence of collagen peptides with scientifically proven efficiency is made of synergitical combination of 3 essential assets:
High concentration of active ingredients
Rapid delivery and assimilation (bioavailability)
Functionality of our collagen biopeptides that boost your own production of endogenous collagen
Clean Label
We have selected the best of collagen molecule: highly active marine collagen biopeptides with above 95% biosimilarity with human collagen
Our Clean Label products, formulated exclusively with natural active ingredients, are free of preservatives, gluten, lactose and GMO's.
Your anti-aging routine delivered at home every month !
Try it now and save 20% *
* Subscription without obligation
SUBSCRIBE